ASP Retreat III
Follow through: necessary in golf and tennis and critical to your business success.
Three to four months after Retreat II, day 1 begins with you first meeting with the other docs to discuss your progress and/or any sticking points. We will explore a results-focused win-win-win team compensation system for your team. Time is allowed for final refinement of your ASP. Then you and your team will present your complete ASP to the other doctors, spouses, and teams. This an extremely high energy, meaningful, and the inspiring core event of Retreat III. It is also the exhilarating springboard from which all future goals are achieved.
You will complete a second self-assessment, determining how your life and work have changed since beginning ASP. We will provide more help on refining your ASP. Then you will learn advanced concepts in ASP including Critical Success Indicators (CSIs) to monitor progress and course-correct, strategic marketing to position your organization to outdistance the competition, and more on Steward leadership.
We will deepen your understanding of Strategic Business Modeling to neutralize competition. Effective goal-based, win-win-win incentive compensation system will also be explored. We will teach you how to create a Balanced Scorecard to quickly monitor and ensure implementation of your most important objectives. Objective Champions will learn more about how to easily monitor action plans. Finally, we will all celebrate having achieved something only a few elite practices have: a true Applied Strategic Plan!
Benefits:
Be exposed to an exciting range of ASPs by seeing firsthand those of your classmates.
Draft a Balanced Scorecard, a one-page summary of key objectives for quick monitoring and course-correction.
Install results-focused systems and processes to complete and sustain your ASP.
Create a pathway to the promise: the vision you desire.
Learn how to renew and sustain your plan each year – the Annual Planning retreat.
Clarify the ongoing role of Goal Champions.
Celebrate your achievement with your team and ASP classmates!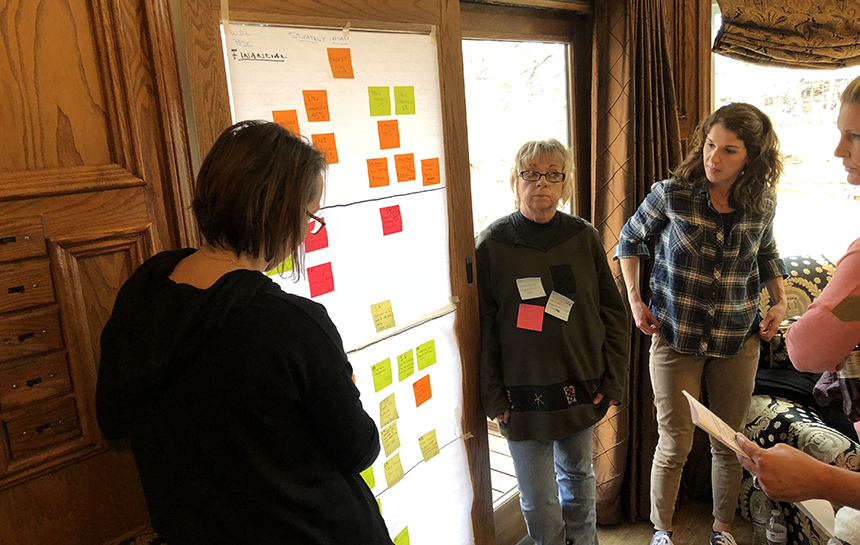 Who Should Attend:
Doctors/Professionals and all other Stewards or potential Stewards of your dental practice. Doctor's spouses or SOs are welcome; however, Retreat III is very practice focused. Many spouses who attended Retreat II enjoy seeing the final ASPs.
Investment
Please contact our office for the investment for the entire ASP Series. Your investment varies dependent on the size of your practice and team. The fee involves a down payment which can be divided in two. After Retreat I, a fee is automatically posted to your credit card for nine months.
Some ask "Can I simply attend Retreat I without committing to the entire series?" While you do not have to attend all three retreats, keep in mind that this is a series of retreats, each building on the one before it. In Retreat I, we're confident you will gain a great overview of Applied Strategic Planning; if you feel you are capable of soloing from there, you should be able to complete the process. However, the critical Stewardship of Wealth financial strategy is not presented until Retreat II. What you also miss from not taking ASP II and III is the built-in accountability and our help between retreats developing and implementing your plan. Over 98% of Retreat I participants complete the entire series. Please reserve the dates for the other retreats so you will have that option. Alumni report returning some five times their investment rather quickly.
Lodging and meals are not included in the ASP fee. Retreats are typically held at a cloistered setting in the Texas Hill Country near Austin that is conducive to meaningful reflection and intensive, but joyful work in a relaxed atmosphere. Excellent food and comfortable rooms or cottages provide the perfect backdrop. We can also bring the ASP series to your part of the country in a central location convenient to multiple participants.
R.L. Frazer & Associates Faculty:
Dr. Bob Frazer, Dr. Jason Luchtefeld, Irene Oldfather, RDH, and Lisa Alvarado Frazer Steward Team Leader.