New Patient Experience Practicum
Choose a doctor who makes you feel strong and empowered, not passive and dumb.
- Rachel Naomi Remen, MD
Are You Highly Trained yet too often Encounter Difficulty with Total Treatment Acceptance? It's Time for You to Learn the Neuroscience of Trust Behind Case Acceptance!
In this new practicum, doctors and key team members learn a process for a truly transformational, comprehensive, collaborative clinical exam that combines proven behavioral, communication processes (including Emotional & Social Intelligence), and clinical excellence in a way that moves people to routinely choose your highest quality, most complete care.
One cannot provide comprehensive care without mastering the Four Competencies of Comprehensive diagnosis: Dento-facial/Esthetic, Functional, Biomechanical & Biologic. However, without Mastering the Fifth Competency—you will be continually frustrated by a lack of treatment acceptance.
During this new course, you and your key team will quickly learn the behavioral expertise required to master the neuroscience of behavior and conversation for major case acceptance from two highly successful doctors and their key team members. You will learn how to easily neutralize the negative effect of dental insurance.
Learning Objectives
How some of what you are now doing is actually counterproductive to total treatment acceptance.
How to adjust your behavior & responses from the patient's first contact with your office throughout their New Patient Experience for greater effectiveness.
How to employ the Results–Behavior–Beliefs Model for lasting change.
Understand Neuroscience: how the influence of two brains interacting affects rapport, trust, and treatment acceptance.
The neuroscience of deep, empathetic listening - understanding patient behavior, clarifying values, and how to neutralize the negative influence of dental insurance.
To rapidly understand & manage your own emotions … and those of your patient.
The specific steps to a totally "Wow," remarkable "Purple Cow" New Patient Experience. How both Emotional & Social Intelligence matters to both treatment acceptance and the development of patient advocates for your practice.
If you are among 100's who have taken our New Patient Experience in the past, we'll warmly welcome you back, and we promise you'll be very glad you returned!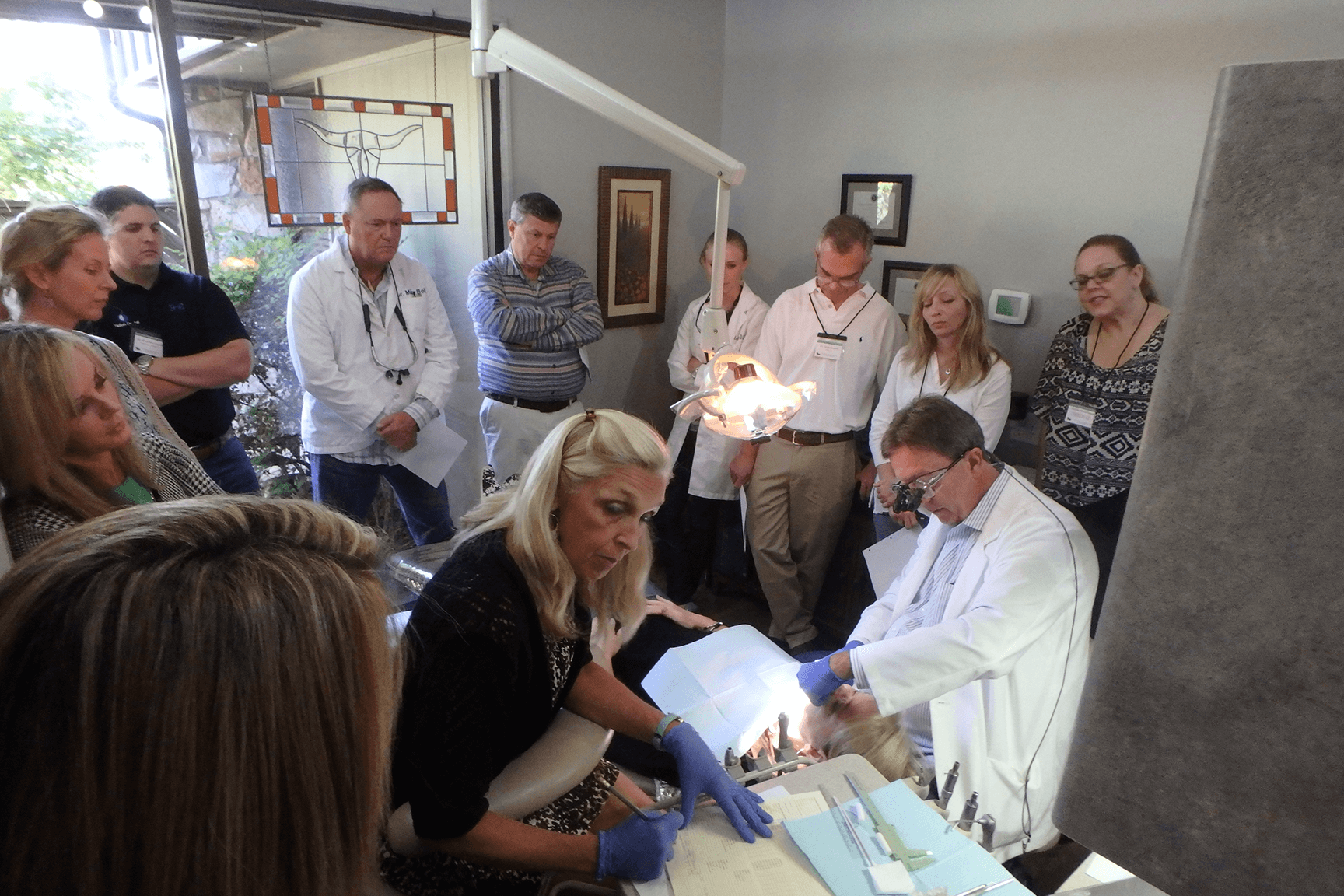 Benefits:
Two days of experiential training will enable you and your team to become highly effective and transformational in your new patient experience—a true Wow!
You will work directly with members of our team and see firsthand how the process unfolds. Inspero Team Members Dr. Don Taylor (a Kois Mentor) and Dr. Ryan Coulon (Pankey/Spear trained) and their Health Relationship Coordinator(s), key admin. team and RDH's serve as role models for the pre-clinical, co-diagnosis and consultation.
See first-hand as they help a patient identify their wants, clarify and interpret value for fine, complete care, assess the patient's probable dental health future and then help your patient state a preferred dental health future leading to a comprehensive, prioritized treatment plan. Also, learn how Oral Systemic Health, a part of the Frazer Model since the early 1980s, is growing in importance.
Who Should Attend:
Doctors and their teams who wish to master the 5th Competency—those who are committed to building enduring relationships with their patients and each other in a fee-for-service practice.
Your investment includes:
A Confidential Pre-practicum survey of your practice's current NPE
Pre-practicum phone consult with one of our faculty
Two-day hands-on practicum workshop
Valuable 100+ page Practicum Syllabus for each participant
Originals of our actual letters, forms, and charts
Group lunch and learn with our team experts both days of meeting
AGD CE credit: Patient education/Motivation: 7 hours; Clinical Diagnosis: 3 hours
Treatment Planning Hours: 3 hours; Neuroscience-Based Communication for Case Acceptance ("Case Presentation"): 3 hours.
Visit our Calendar for upcoming course dates (Spring 2022) and registration information.
We are pleased to offer this related product.
Investment:
The course is limited on a first-come, first-served basis. Visit Inspero for registration information.
Welcoming the New Patient to the Values-Driven Practice
DVD· $895.00
Learn how to make your appointments with new patients congruent with a values-driven, health-centered approach. Watch our highly effective new patient exam, pre-clinical and co-diagnosis appointments, as well as follow-up consultation. Find out how to present fees, neutralize insurance, and increase case acceptance—all while using collaborative, low-pressure techniques that make your patients feel welcome! This 5 DVD set is the next best thing to taking our New Patient Experience Practicum!
Welcome I '84 - "The Classic" Preclinical/New Patient First Visit
DVD· $95.00
Timeless and priceless doctor/patient preclinical dialogue that reveals the emotions patients typically experience in our offices but don't express.This DVD is a must-see if you are serious about really understanding your new patient. It will change forever how you approach the new patient. What you get: 1 DVD (1.5 hours)
Everything DiSC Workplace
ASSSESSMENT· $85.00/person
Everything DiSC Workplace® can be used with everyone in an organization, regardless of title or role, to improve the quality of the workplace.
Everything DiSC Workplace focuses on:
Discovering Your DiSC Style
Understanding Other Styles
Building More Effective Relationships
Learn more about DiSC.
Team Based Marketing of Comprehensive Care
AUDIO CD· $60.00
Find out how three key dental team members—your business office person, chairside assistant, and hygienist—can masterfully market to your patient's comprehensive care from the first call forward. Listen as these key people describe how they masterfully marketed complete care from the first call forward, including welcome, financial arrangements which neutralized insurance, pending treatment, and more.
What you get: 2 CD set (1.5 hours).
Creating the Transformational Practice for Uncommon Success Regardless of the Economy
AUDIO CD· $187.00
Would you like to create a "WOW" first experience for every new patient in your practice? Here's the strategy... .
Learn to create a relationship-based, values-driven practice experience that is a true "Wow" experience guaranteed to help people routinely choose more of your finest care even in today's economy! And, send their friends!
Proven Secrets for Helping People Routinely Choose Your Finest Most Complete Care
AUDIO CD· $187.00
Are you facing treatment acceptance challenges with the economy as one of those primary reason? Would you like to learn to overcome that challenge with a simple strategy? Here's how! For 36 years through four recessions these results driven principles and systems presented here have succeeded. Everything you need to succeed in your new patient experience – especially in today's economy.
Dentist & Teams That Get Results - Unleashing the Power of Emotional Intelligence
AUDIO CD· $385.00
This audio program with printed supplements can help you raise your effectiveness as a leader, fully connect with people, and achieve breakthrough gains in your and your team's performance. It can help you raise your effectiveness as a leader, fully connect with people, and achieve breakthrough gains in your and your team's performance. Meanwhile, you will learn how to extinguish recurring team problems and increase case acceptance. What you get: 6 CD set (7+ hours), plus valuable handouts.
Responding Respectively to Fear and Reluctance
AUDIO CD· $60.00
Learn to recognize and respond appropriately to the four kinds of fear and to a range of fears that patients typically feel at dentist visits. Discover ways to increase your patients' comfort and elevate case acceptance.
This lively presentation and dialogue are most valuable in helping dental professionals learn to address patients' anxiety and reluctance. What you get: 2 CD set (1.5 hours), plus valuable handouts.