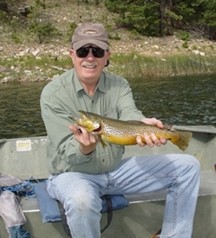 Vermejo Think Tank
June 17 to June 19
08:00 am to 06:00 pm
On June 16th, five fellow fly fishers will rendezvous with me in Raton, New Mexico where will dine together and spend the night at a local motel. Bright and early Friday morning, June 17 we'll make the one-hour drive to the 675,000-acre Vermejo Park Ranch.
We'll eat breakfast; pick up our box lunches, trolling motors, and strike out for the many lakes full of some of the best fighting rainbows, browns, and a few Brookies you've ever tied into. Although these trout are stocked, they are raised on a wild stretch of the Platte River in Nebraska. All are 1 lb. or more and if past tradition holds, they will be hitting mostly dries and some droppers. We've netted 5, 7, 9, and 10 pounders, and what a fight they put up! You are allowed to keep six per day and the ranch will clean and flash freeze them for a take home.
The day's end with a hot shower, great fellowship, libations, and a Think Tank discussion followed by a gourmet four-course meal in the rustic elegance of the magnificent big timbered lodge. We'll then fall asleep in the comfort of our first-class cabin adjacent to the lodge. Next morning after breakfast, we'll head out for another day of great fishing. Saturday, the Ranch hosts a delicious barbeque and grilled steak dinner. Sunday after breakfast, we can have more fun over a ten-station trap shoot course until about 11:00 AM - they furnish guns and ammo.
Who Should Attend: